Beverages
Calories in Starbucks Iced Coffee Sweetened
40

calories

Serving Size 0.67 tall (about 224 g)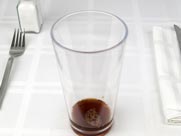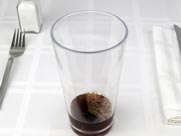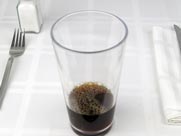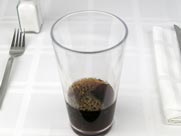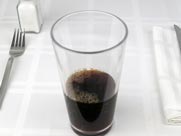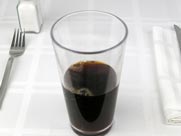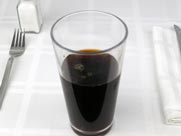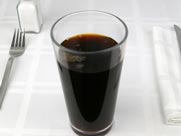 Nutrition Facts
Serving Size 0.67 tall (about 224 g)
Amount Per Serving
Calories

40

Calories from Fat 0
% Daily Value*
Total Fat 0g
0%
Saturated Fat 0g
0%
Trans Fat 0g
Cholesterol 0mg
0%
Sodium 4mg
0%
Total Carbohydrate 10g
3%
Dietary Fiber 0g
0%
Sugars 10g
Protein 0g
* Percent Daily Values are based on a 2,000 calorie diet. Your daily values may be higher or lower depending on your calorie needs.
Embed this onto your website
Available portions
Iced coffee is a kind of coffee beverage which is served chilled. It can be made in two ways. Firstly brewing the cold coffee, yielding a different flavour, and therefore cooling is not required.

Secondly brewing it normally (hot)and then cooling it by adding ice to it. In case of hot brewing sweeteners and flavours are added when then coffee is hot (dissolution is faster in hot water).

Pre-packaged iced coffee is available in markets also. Regardless of brewing method, iced coffee is generally brewed at a higher strength than normal coffee, due to dilution caused by the ice.
;
Food analysis
Low In Fat Low Calorie Density
There is 40 calories in 224 grams of Starbucks Iced. With 16 calories per 100 grams, this food would be considered a Low calorie density food. A Low calorie density usually indicate that you can consume a larger amount of food with less calories and are usually good choices when dieting.

Starbucks Iced is High in carbohydrates, Very Low in proteins and Very Low in fats. You can look at the macronutrients graph below for a detailed ratio.

With 4 grams of "Net carbohydrates" per 100 grams, it must be consumed with moderation if you are following a Keto or Ketosis diet.

Related Searches starbucks iced coffee sweetened


Macronutrients split
0.0% Proteins
100.0% Carbohydrates
0.0% Fats
Nutrients and how much we eat of it play an important role on our health and body composition. To learn more on theses, check our blog posts on Proteins, Carbohydrates and Fats.
At home, Ice coffee can be prepared very easily
Firstly the roasted coffee beans are coarsely ground and then water is added.

It is kept in a jar for 12 to 24 hrs for the coffee to steep. After that, the steeped coffee is poured through a fine-mesh strainer which is covered with cheesecloth.

The solids that are collected on cheesecloth are removed. The liquid that remains is our cold brew coffee concentrate.

When intended to drink ½ cup ( 120 ml) of cold water is added to ½ cup of cold brew coffee concentrate. Then ice is added.
Cold coffee has a lot of health benefits and they are :
Cold coffee boosts metabolism. Metabolism is the total process by which the body uses food to create energy. The caffeine in coffee increases the metabolic rate by 11 % to 13% and helps in burning of fat. But if sugar syrup or sweetening agent in cold coffee to make it sweet it may enhance the calorie content of the cold coffee by many folds.

Studies have shown that coffee enhances your alertness, decreases your risk of depression, boost your mood and improve brain function.

Regularly drinking coffee improves heart health. However, caffeine should be limited or avoided if you have uncontrolled high blood pressure.

Studies have also indicated that cold brew coffee stabilizes blood sugar and reduce risk of type 2 diabetes.

Caffeine stimulates the nervous system and is believed to protect the brain from age-related diseases. Phenylindanes like compounds in coffee reduces the risk of diseases like Parkinson's.

Cold brew coffee is only slightly less acidic than hot coffee but some compounds in it protect the stomach from this acidity
Food with similar macronutrients