150

calories

Serving Size 0.6 package(s) (about 161 g)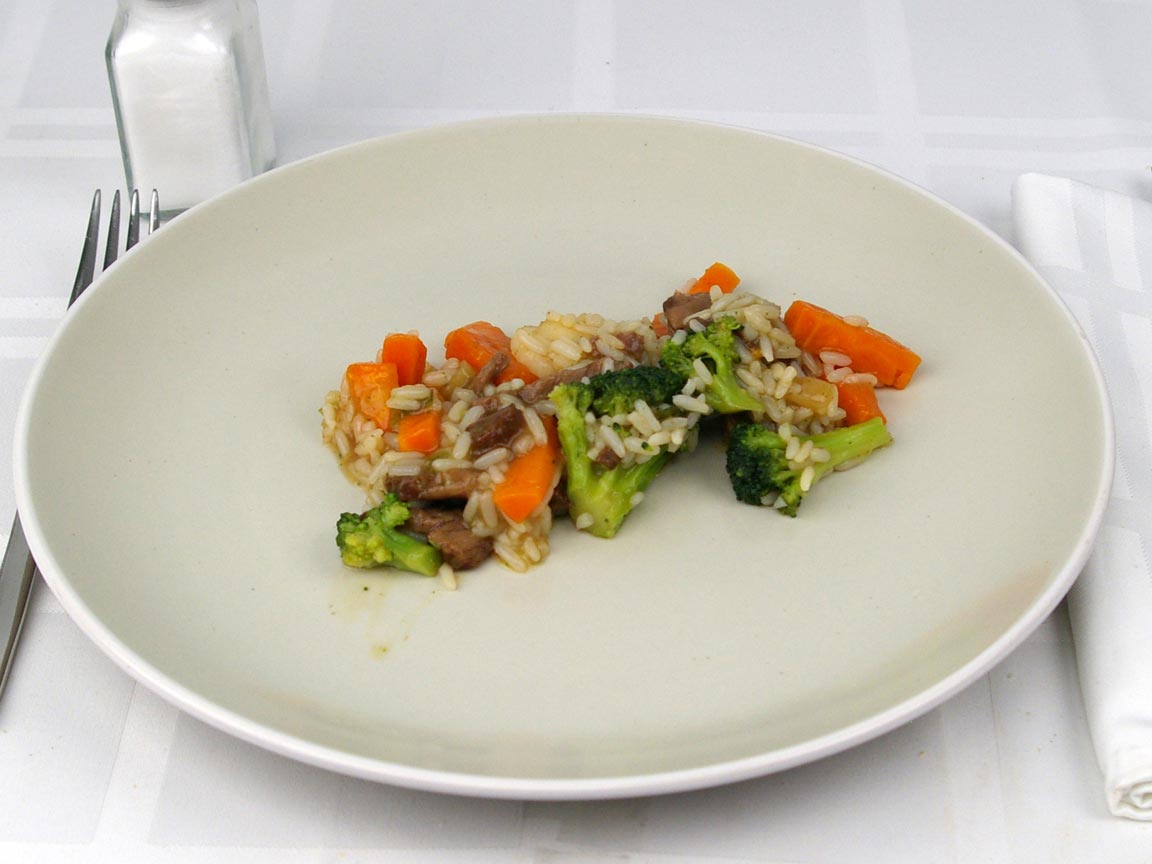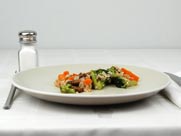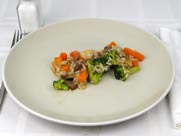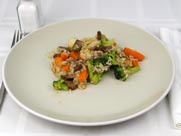 Nutrition Facts
Serving Size 0.6 package(s) (about 161 g)
Amount Per Serving
Calories

150

Calories from Fat 26
% Daily Value*
Total Fat 2g
3%
Saturated Fat 0g
0%
Trans Fat 0g
Cholesterol 21mg
7%
Sodium 269mg
11%
Total Carbohydrate 25g
8%
Dietary Fiber 1g
4%
Sugars 7g
Protein 8g
* Percent Daily Values are based on a 2,000 calorie diet. Your daily values may be higher or lower depending on your calorie needs.
Embed this onto your website
Available portions
The story behind
It is believed when the Japanese immigrants in Hawaii created a distinctive marinade by blending local product like pineapple juice with soy sauce a sauce was formed which eventually became a sauce known as teriyaki sauce.
The general ingredients used are brown sugar, cornstarch, garlic, ginger, rice wine (mirin sake), soy sauce and sugar.
The term was included in the " Merriam Webster Dictionary " in the 1960s when the popularity of Japanese cuisine was rising in the United States.
It was a name which meant a Japanese dish of meat or fish that is grilled or boiled after being soaked in a seasoned soy sauce marinade.
;
Food analysis
Low Calorie Density
There is 150 calories in 161 grams of Healthy Choice - Beef Teriyaki. With 89 calories per 100 grams, this food would be considered a Low calorie density food. A Low calorie density usually indicate that you can consume a larger amount of food with less calories and are usually good choices when dieting.

Healthy Choice - Beef Teriyaki is High in carbohydrates, Medium in proteins and Medium in fats. You can look at the macronutrients graph below for a detailed ratio.

With 15 grams of "Net carbohydrates" per 100 grams, it not safe to consume if you are following a Keto or Ketosis diet.

Related Searches teriyaki beef choice healthy


Macronutrients split
22.5% Proteins
67.4% Carbohydrates
10.1% Fats
Nutrients and how much we eat of it play an important role on our health and body composition. To learn more on theses, check our blog posts on Proteins, Carbohydrates and Fats.
Recipe

To make beef teriyaki generally, the beef is marinated for a minimum of 30 minutes or longer, then the meats are usually grilled and served with rice and vegetables.
Is it healthy?

Beef Teriyaki is a high protein and high-calorie food which is good for people with higher protein needs.
It can also be included in a keto diet if the content of sugar is reduced in teriyaki sauce.

Teriyaki sauce is generally high in sodium ( two tablespoons tentatively provide 60 % of sodium needed ) and sugar.
However, if teriyaki sauce is made at home, to make it healthier you can swap the brown sugar with maple syrup and soy sauce with tamari sauce.
The corn starch used to thicken the teriyaki sauce is not good for people with obesity and diabetes and can be substituted with arrowroot, rice flour, tapioca, psyllium husk.
Food with similar macronutrients